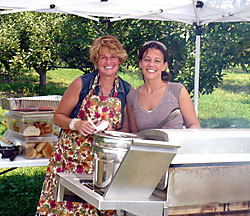 RESERVATIONS ARE NOT REQUIRED. AS PER NYS REGULATIONS, ALL CUSTOMERS ARE REQUIRED TO WEAR MASKS AND PRACTICE SOCIAL DISTANCING. SOCIAL DISTANCING IS REQUIRED AT THE TIME YOU ENTER THE PARKING LOT AND FARM GROUNDS.
DuBois Farms: Open everyday from July 11 through November 1; Open weekends only from November 8-22
Our barbeque is open from 11 am to 5 pm, serving delicious family favorites hot off the grill. We also offer a variety of fresh salads and butternut squash soup for lunch.
Don't forget to visit our Tavern for a cold drink (alcoholic and non-alcoholic) to go with lunch, open 12-5 pm on weekends!
You can also take home a dozen apple cider donuts, pies, breads and apple dumplings!