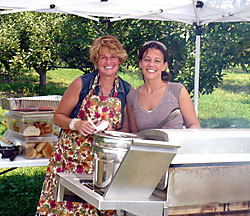 Every Saturday and Sunday during the season, we will be having a barbeque from 11:30 am-4:30 pm, serving delicious family favorites hot off the grill. We also offer a variety of fresh salads and hot soup for lunch.
Enjoy your lunch at one of our beautiful picnic areas, where you can sit, relax and enjoy the tranquility of a beautiful fall day on the farm. And don't forget to take home a delicious pie, fresh from the oven, and a dozen warm, freshly made apple cider donuts!
Please note: On weekdays, we offer snacks and baked goods in the farm market. You are welcome to bring a picnic lunch on weekdays. On weekends, it is our policy at DuBois Farms not to allow outside food or drink to be brought onto the property beyond the parking area. The only exceptions to this policy would be birthday cakes for those participating in the birthday party packages and food for those with special needs (i.e. diabetics, etc.), pre-approved by DuBois Farms management.