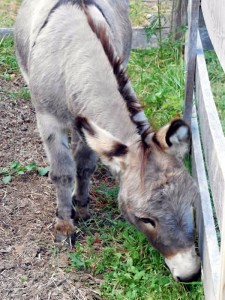 Update: As of Oct. 2, 2017, we will not be making any more reservations for weekend birthday parties. All time slots are filled for the rest of the season.
School groups are welcome Monday through Friday, by appointment only. Children's outdoor birthday parties are also welcome, by appointment only, every day.
For $11.00 each, each child will be able to pick their own bag of apples. This price also includes a scenic tractor-pulled wagon ride, a cup of cider and an apple cider donut, a walk through our corn maze, play-time in "Tiny Town", and a visit with our farm animals in a safe and clean environment.
For an additional $2.00, each child may also pick a small pumpkin.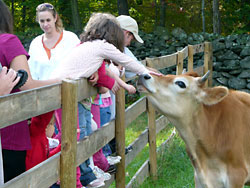 We request at least one chaperone for every 5 children. Chaperoning teachers and adults will not be charged if they do not wish to pick. If they wish to purchase fruit, or food available at our farm market, they may do so at a reduced rate.
A discounted rate will be given to birthday party guests for food and drink purchases at our barbeque. Picnic tables will be reserved for two hour time blocks.
Payments and Deposits: A $50 non-refundable deposit is required within one week of the event date in order to reserve your party's date and time, and may be made by Visa, Mastercard, or Discover. The rest of the payment may be made the day of the party by cash, money order, Visa, Mastercard, or Discover.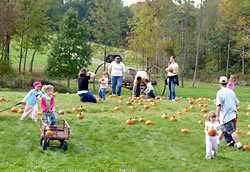 Please call Jolee at (845) 795-4037 to make arrangements. You can also email her at upick@duboisfarms.com.
Please note: It is our policy at DuBois Farms not to allow food or drink to be brought onto the property beyond the parking area. The only exceptions to this policy would be food for those with special needs (i.e. diabetics, etc.) and birthday cakes for birthday parties.