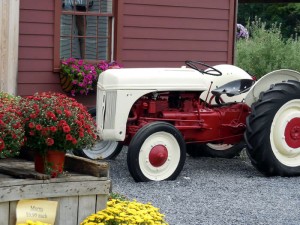 We offer a wide array of fruit available to pick, including nectarines, plums, apples, pears, peaches, grapes, tomatoes, eggplant, peppers, squash, and pumpkins, along with colorful flowers too!

In addition to our U-Pick, we also have a family-run farm stand and café with:
Delicious baked goods, including cookies, pies, tarts, crisps, apple dumplings, etc.
We make some of the best apple cider donuts in the Hudson Valley, freshly made all day and served to you warm!
Seasonal specialty desserts.
Fresh brewed coffee, tea, and hot apple cider for your enjoyment.
Fresh pressed local cider.
Local farm products, including a vast array of jams, jellies, salsas, barbeque sauces, specialty ketchups, mustards, pickles, peanut butter, honey, maple syrup, fruit crisp mixes, and more.
Yummy snack items including old-fashioned candy, cotton candy, and snow cones.
Candles, shampoos and conditioners, hand and body lotions, all natural sugar scrubs and foot scrubs, and soaps.
Major credit cards accepted.
And don't forget to visit our new Tavern at DuBois Farms, open weekends from 12 – 5 pm! We're pleased to offer a variety of the best local wine, hard cider, and craft beer for your enjoyment!
U-Pick Schedule
Nectarines/Peaches: mid-July-early September
Plums: late August-early September
Tomatoes: late August-mid-October
Eggplant, Squash, & Peppers: August-September
Apples: August, September, October
Grapes: late September-October
Pears: September-October
Pumpkins and gourds: mid-September- October
Upcoming Events
Below please find a list of festival dates and the availability of different varieties of fruit and vegetables to pick. The website is updated as availability is determined, so please continue to check in closer to the date you would like to visit us.
July 21 through August 24: Peaceful Pickin'
Come and visit us to pick from our beautiful crop of delicious peaches and a variety of vegetables, including tomatoes, peppers, eggplant, and squash, as you enjoy the tranquility of the farm! Kids can play on the new wooden tractor and wagon in Tiny Town and everyone can enjoy a delicious barbequed lunch and visit the farm animals.
August 25 & 26: Summer Harvest Festival & Classic Car Show at DuBois Farms – Saturday, August 25th (Rain Date: August 26th)
Bring the whole family to DuBois Farms and enjoy lots of pick-your-own fruit and veggies, local food & craft vendors, and our 7th Annual Classic Car Show from the Dutchess Cruisers Car Club!
September 1, 2, & 3: Honey Crisp Hysteria Festival
September 8 & 9: Honey Crisp Hysteria Festival
September 15 & 16: Honey Crisp Hysteria Festival
September 22 & 23: "Fall Into Fall" Festival
September 29 & 30: "Apple Daze" Festival
October 6, 7 & 8: Annual Harvest Festival
October 13 & 14: Fall Fun Festival
October 20 & 21: The Great Pumpkin Festival
October 27 & 28: Halloween Fun Festival
November 3 & 4: Dog Daze Festival